The EU is on the verge of change regarding customer rights. It is important that consumers are aware of this – especially after the large data leaks recently reported in the news, says HR-ON.
HR-ON have investigated consumer relations with GDPR.
There was recently a significant case in the news. A company, called Cambridge Analytica, managed to access up to 87 million Facebook users' private information. This case shows that there is a need for an increased focus on personal data security. However few consumers are aware that the European Union is undergoing a very comprehensive change in regulation that will give them a whole range of new rights. This is shown in a study made by A&B Analysis on behalf of HR-ON. It is contradictory, says HR-ON's director, Ali Cevik, as a comment on the current situation. The EU's General Data Protection Regulations comes into force on 25th May this year. 
"The rules are designed to hit the big ones such as Google and Facebook, so they cannot just use people's data in a way that consumers cannot see, and then it's startling that so few have heard of GDPR," explains Ali Cevik.
The survey shows that even though seven out of ten Danes have felt insecure about providing information online, only one in three have heard of GDPR. The new rules should make everything clear to consumers. The new GDPR rules will allow them to know what information companies have and also how they use it. At the same time, the rules ensure that companies only store genuinely relevant information and that consumers are able to withdraw their commitment to sharing data as easily as they have given it.'
Everyone should be aware of their rights
"Everyone should know that they have the right to see what companies have registered about them and that they have the right to withdraw commitments again," says Ali Cevik.
The new rules, and the fines associated with breaking the rules, are targeting companies, not consumers. If companies breach the new rules, they will risk fines of up to 150 million DKK. Previously, the maximum possible fine was 25,000 DKK. The consumers who are familiar with the new GDPR rules have most likely heard about it through their work rather than through public information.
"GDPR will have a major impact on our lives, and it applies to the whole of Europe. Our survey is the first of its kind, and it reveals that the authorities have done far too little to inform consumers about GDPR," says Ali Cevik.
HR-ON helps customers to be GDPR-compliant
HR-ON works with GDPR in relation to corporate recruitment. Applicants come with a wide range of personal information that needs to be handled properly. In HR-ON's market, a lack of knowledge could result in people not getting the right job, or companies not getting the best candidates. In general, insecurity and ignorance could mean that the entire digital world runs less smoothly than it could.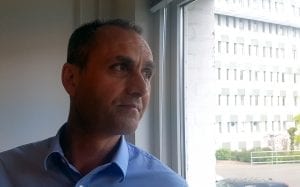 "There is no doubt in my mind that insecurity and lack of knowledge about data security are linked. Therefore, consumers should also have been better informed about the rights they have and, above all, the rights they get with GDPR," concludes Ali Cevik.