As a consequence of the government's efforts to limit the spread of the Coronavirus, the traditional job market is more or less deserted. The good news is that you can use SoMe to recruit talented candidates, even those who aren't necessarily looking for a new job.
According to a newsletter by the Danish job portal Ofir.dk, there has been a decrease of up to 40% in jobseeker traffic. One of the reasons behind the decline may be that unemployed people are currently exempt from applying for jobs until 10th June. The parliament has made this decision based on the current situation in society.
Nevertheless, there are still several ways for your business to secure applicants for your vacancies. You can use SoMe (social media) to recruit talented candidates. That's what HR-ON's PR and Communications Manager, Rasmus Festersen, points out:
"The extreme situation currently is causing a significant increase in screen time for everyone. This is an opportunity for companies to find their employer branding style and to actively approach potential applicants through, for example, SoMe."
Strengthen your employer branding
With so many people around the world currently working from home, this means that many are spending more time in front of the computer screen. Both for personal and professional reasons, with companies holding meetings online.
As a company, you can use this increase in online traffic to sharpen your digital expression. Focus on your employer branding through your website, especially your job page and social media accounts. Employer branding is about showing the outside world and therefore potential candidates who you are. How is the work culture and the environment? What would it be like to work with you?
Take a look at some great job pages here and contact HR-ON for help developing your own site.
Consider also reading: 5 tips to improve your Employer Branding
At HR-ON, the employees have shared pictures of their new office sapce during the current situation: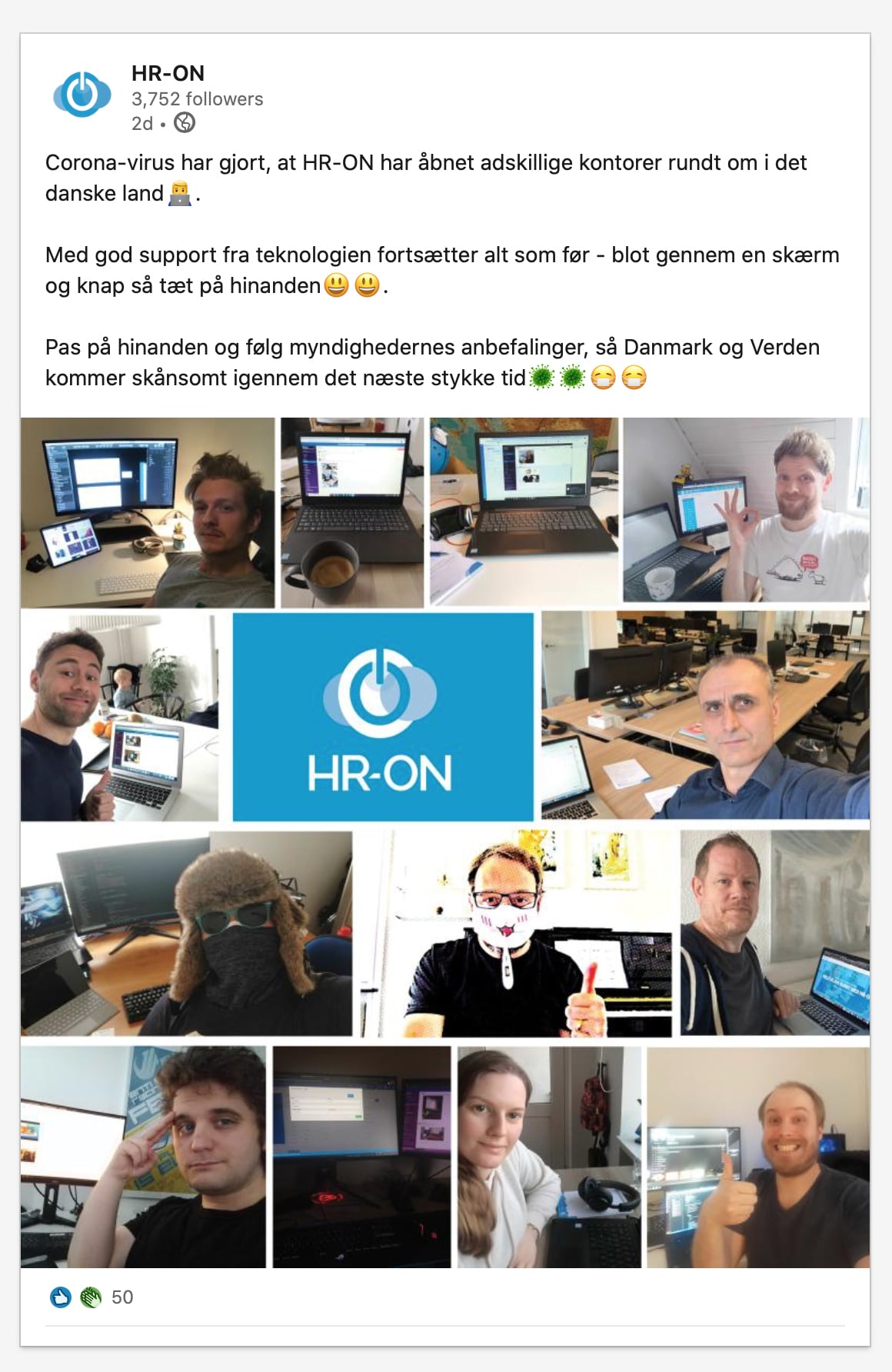 Reach out to passive candidates
There are several ways to attract candidates. As a business you can focus more on LinkedIn and Facebook, if you have a business account on either or both of these social medias. To get your job post out to as many relevant candidates as possible, HR-ON recommends creating a campaign, which HR-ON's support team can help with.
Social media campaigns target relevant candidates based on criteria such as education, geography, current title, and more. That way, your job search reaches out to people who may not necessarily follow your business. The job post also appears for those who are not actively looking for a new job – the so-called passive candidates.
In Denmark, over 2.5 million people have a profile on LinkedIn. And over 80 percent of Danes on LinkedIn are passive candidates. Despite the high proportion of passive candidates, 90 percent of Danes say they are open to the "right" job opportunity. Therefore, it can be really interesting to look for passive candidates. These stats come from LinkedIn.
Consider reading: Find new employees via Social Media
HR-ON sets up the campaign
Contact HR-ON's support team to learn more about social media campaigns. You can do this by phoning  +45 71 99 07 66 or by emailing support@hr-on.com. Due to the current situation, HR-ON, in collaboration with four partners, also offers assistance with other HR-related issues as a result of the Corona crisis. HR-ON's PR and Communications Manager, Rasmus Festersen, is part of an HR preparedness team that is at the forefront of Technology Denmark. Read more here.
We remain open as usual, but we have made changes to follow the government's guidelines relating to Covid-19, in order to look after our employees. It's not something you can immediately sense as a customer.