On Monday 27th April, the IT company HR-ON held a webinar in collaboration with Focus Advokater, one of the largest independent law firms in Southern Denmark. With over 100 participants, HR-ON's GDPR webinar was a success. Many professionals tuned in to refresh their knowledge of GDPR.
The webinar comprised of two presentations; one by Jesper Løffler Nielsen, a certified IT lawyer specializing in personal data at Focus Advokater. And the other by Christian Hansen, CTO at HR-ON.
The original plan was to hold a physical seminar in the conference room at HR-ON's head office in Odense. However, due to the corona pandemic HR-ON chose to hold the seminar online – with as much participant involvement as possible.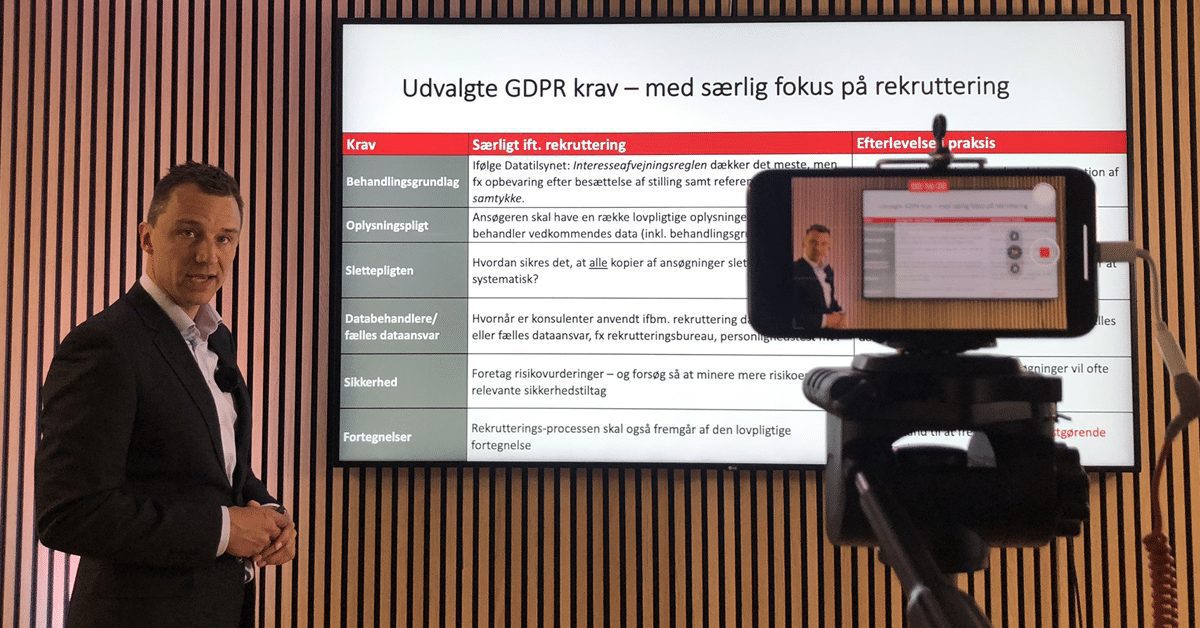 Jesper Løffler Nielsen, Focus Advokater.
Actively-involved participants
The move online did not prevent or discourage the attendees from participating. They were actively involved in the webinar and it felt almost as if they were physically present at HR-ON's office. Many took advantage of the opportunity to ask questions to the two presenters.
Throughout the webinar, there were several ways for the participants to get answers to their GDPR-related questions. One option was to ask questions in the 'chat feature' during the webinar. Additionally, participants had been provided with an app with practical information in advance of the webinar. And this also included the option of asking HR-related GDPR questions.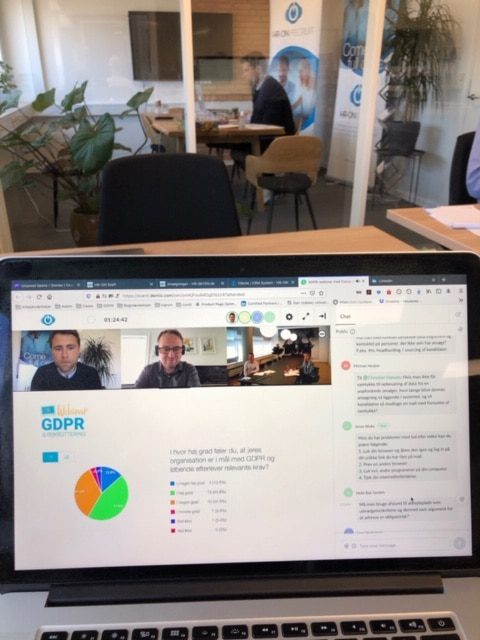 Meeting GDPR Requirements
In addition to the two presentations, PR and Communications Director at HR-ON, Rasmus Festersen, spiced up the webinar with answers from a survey. The survey was about GDPR challenges related to HR and Recruitment.
The responses were collected using the app mentioned above, which was created in the HR-ON Staff Management System. And the survey indicated that many of the participants are already successfully meeting the GDPR requirements.
The questions asked in the app survey were the following (see English translation of questions under the images):

1. To what extent do you get support from your management and colleagues for performing the tasks required by GDPR?

2. To what extent is GDPR a focal point in your organization?

3. To what extent do you feel that your organization is GDPR-compliant and currently meeting the requirements?
Become fully GDPR-compliant with HR-ON
In addition to this GDPR webinar with Focus Advokater, HR-ON regularly holds HR-related seminars and webinars. So keep an eye on our website here in English and on HR-ON's LinkedIn page to sign up for the next event.
If you would like to know more about how HR-ON's products can support your company in meeting the GDPR requirements, contact us here.