LinkedIn's Diversity Webinar was both interesting and informative, and very relevant to HR-ON's core values.
LinkedIn have been holding a number of different webinars in recent months – helping to keep professionals connected during the Corona lockdown. Throughout the month of April, LinkedIn have held a series of webinars called 'Curious Wednesday':
'Curious Wednesday is a weekly webinar that offers a deep dive into a specific talent related topic, that might (and should) be on your agenda.'
We have decided to share some key points from last week's webinar on Diversity, which is a topic that's part of HR-ON's core company values.
Diversity is part of HR-ON's DNA
For HR-ON, diversity is a key factor which is why the IT company is part of a professional network promoting diversity in the workplace: Diversity Charter Odense. The company's staff are diverse in several ways. In the office in Denmark, you will find employees originating from more than eight different countries, you will find both female and male software developers, and people from a wide variety of educational/professional backgrounds.
"Diversity and the varied viewpoints and input it provides are a cornerstone of HR-ON's success," says HR-ON's CEO, Ali E. Cevik, adding:

"In order to deliver innovative solutions, we need a diverse team. I have worked with diversity for a long time."
Read more about HR-ON's diversity here.
Key points from LinkedIn's Diversity Webinar
LinkedIn's Diversity Webinar on Wednesday 22nd April 2020 was about diversity within business. This article will highlight some of the key points from the webinar, to help companies understand and embrace diversity.
Diversity, Inclusion, Belonging
The webinar had a very interesting and unique way of defining some key terms relating to diversity. They did this by relating diversity to a party:
Diversity – can be seen as being invited to the party
Inclusion – being asked to dance
Belonging – having your song played on the dance floor
Relating this back to business; diversity is hiring diverse employees, inclusion is inviting them to join meetings and discussions, and finally belonging is allowing these diverse employees to have an active input into the business.
Reflect on every stage of the employee life-cycle
LinkedIn's Diversity Webinar advised companies on how to start thinking about diversity. One of the most important things is to take the time to reflect on how diverse and open each stage of the employee life-cycle is within your company. This includes everything from on-boarding to the exit interview.
HR-ON's cloud-based staff management system, HR-ON Staff, helps companies manage the entire life-cycle of their employees. Having a system like HR-ON Staff facilitates your company's transition towards diversity.
For a free demo of HR-ON Staff, get it touch with us today.
Survey your talent pool
A great way to better understand how diverse your company and its activities are, is to ask your employees and wider talent pool. Send out a survey to find out how candidates found your recruitment process, for example. Or survey your staff and ask to what extent they consider the company to be open and diverse.
You can use the App Builder in HR-ON Staff to create and send out surveys with ease. You don't need to be an IT pro – it is quick and simple to make and you can push it out to many people at once.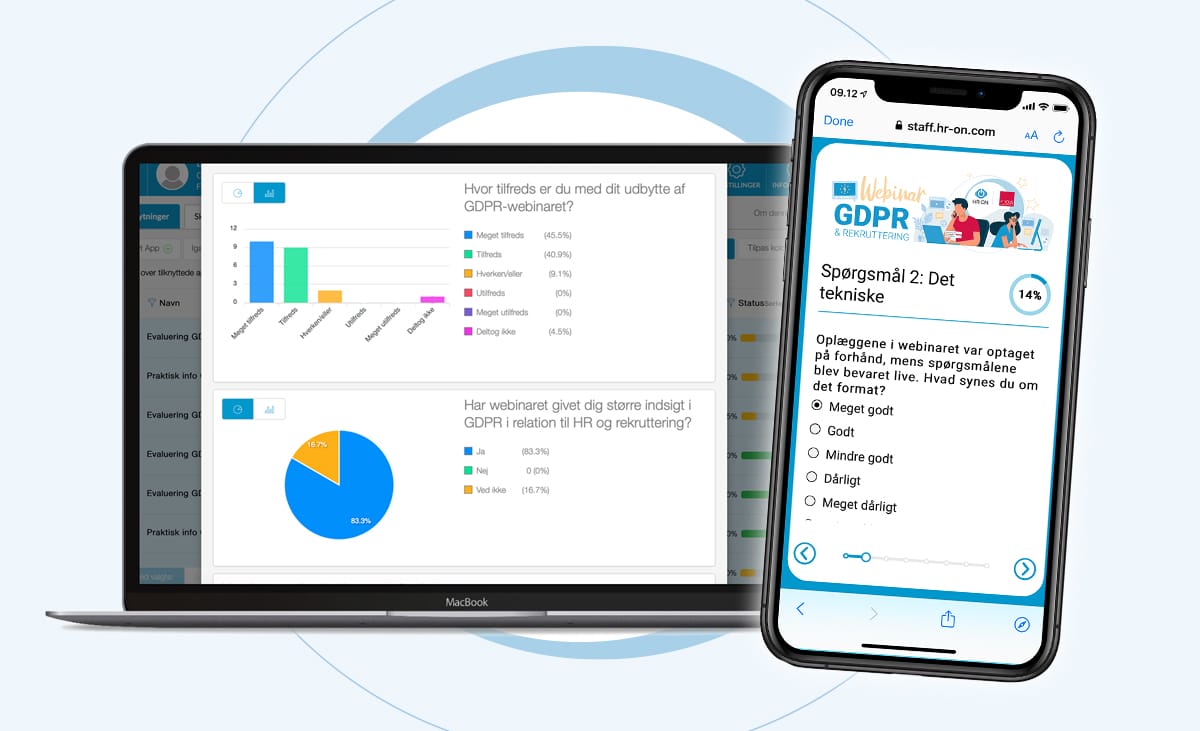 Images of the Appbuilder in use during HR-ON's GDPR webinar.
Employer Branding and Recruitment
LinkedIn's webinar focused on gender diversity and this highlighted an important point related to Employer Branding and Advertising. The organizers of the webinar encouraged companies to think about the language used in job adverts when recruiting. Relating to gender diversity, companies should try to use gender neutral terms which appeal to both men and women.
In general, you should try to use open and diverse language in Employer Branding if you want to appeal to a wide variety of people.
For more tips on Employer Branding click here.
See also – Top reasons to recruit diverse employees