Med godt 100 deltagere var HR-ONs GDPR-webinar med Focus Advokater et populært sted at få opfrisket sin viden om GDPR – online. Webinaret bød på to oplæg. Det ene var af Jesper Løffler Nielsen, certificeret it-advokat med speciale i persondataret ved Focus Advokater. Det andet stod Christian Hansen, der er CTO ved HR-ON, for.
Webinaret var oprindeligt tænkt som et seminar, der skulle løbe af stablen i HR-ONs konferencelokale. Men på grund af coronapandemien valgte HR-ON at afholde seminaret online – med så stor grad af deltagerinvolvering som mulig.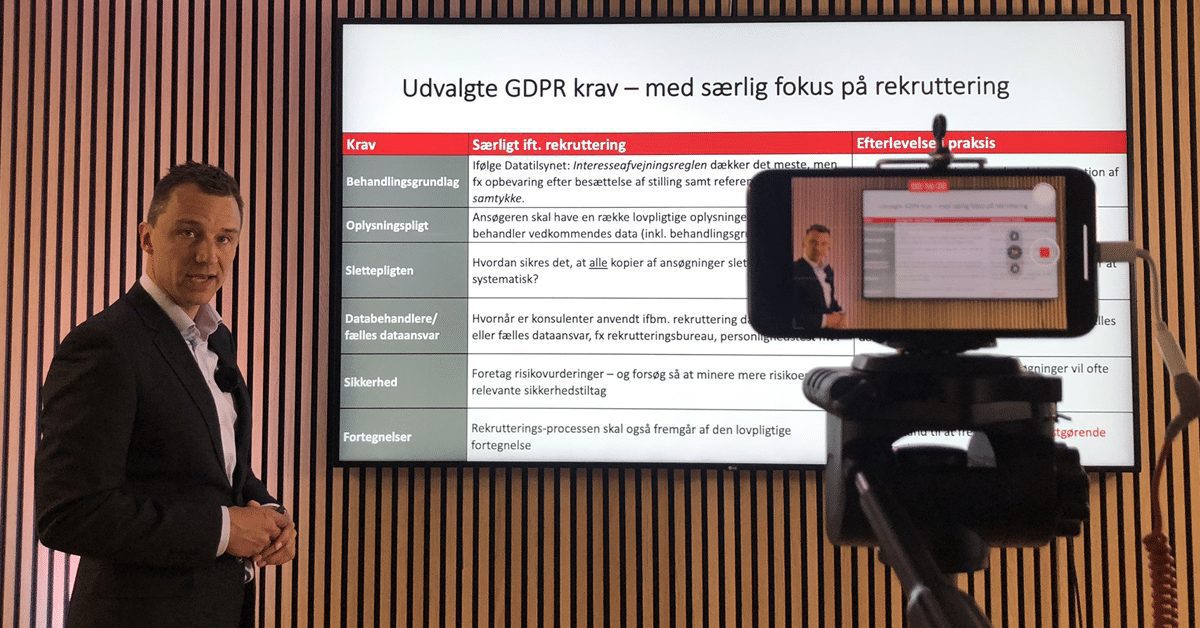 Jesper Løffler Nielsen, Focus Advokater.
Spørgelystne deltagere
Rammerne var dog ikke noget, der forhindrede deltagerne i at engagere sig. Deltagerne var aktive, som var de fysisk til stede på HR-ONs hovedkontor i Odense. Mange benyttede sig af muligheden for at stille spørgsmål til de to oplægsholdere, der i tidens ånd sad hver for sig.
Der var flere måder for de GDPR-sultne deltagere at få svar på deres spørgsmål. Den ene var i form af en chatfunktion under webinaret. Derudover havde deltagerne på forhånd fået tilsendt en app med praktiske informationer – herunder chancen for at stille HR-relaterede GDPR-spørgsmål.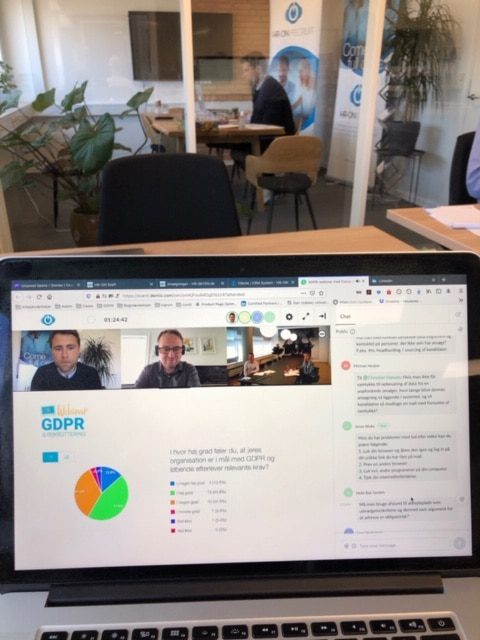 Lever op til GDPR-krav
I forlængelse af de to oplæg krydrede dagens konferencier, PR- og kommunikationsdirektør ved HR-ON, Rasmus Festersen, webinaret med svar fra en survey. En survey der omhandlede GDPR-udfordringer i relation til HR- og rekruttering.
Svarene blev indsamlet ved hjælp af den førnævnte app, der var lavet i personaleadministrationssystemet HR-ON Staff. Og noget tyder på, at mange af deltagerne allerede er godt med, hvad angår opfyldningen af GDPR-krav.
Spørgsmålene lød:



Kom i mål med dataforordningen med HR-ON
Foruden dette GDPR-webinar med Focus Advokater, holder HR-ON løbende HR-relevante seminarer og webinarer. Hold øje her på hjemmesiden og på HR-ONs LinkedIn-side for at tilmelde dig næste arrangement.
Vil du høre nærmere om, hvordan HR-ONs produkter kan understøtte din virksomhed med at leve op til GDPR-kravene, så kontakt os her.