One entrepreneur in Odense has had a longer journey to success than most
Today Ali E. Cevik, founder of the Danish IT company HR-ON, will be presented with a coveted business award in Odense. The story behind this successful entrepreneur is rather unusual and very interesting. 
When Ali E. Cevik first arrived in Odense, he and his family were shepherds. Today, 42 years later, he is an academic and the founder of a growing, Danish software company, currently with around 40 employees.
And it is in his position as founder of the company HR-ON, that he is to be awarded the 'Børsen Gazelle' award for the second time in the Odeon cultural center in Odense.
"My story shows how far people can go, if they are not held back by barriers", says Ali E. Cevik.
The house on Pjentedamsgade
The area around Pjentedamsgade in Odense was far from fashionable in 1974, when the car with Ali E. Cevik's father behind the wheel pulled up in front of number 28. Here, on the second floor was Ali's childhood home.
"This is not where the rich lived. It was a real working quarter. I remember life back then with adults sitting and drinking all day in front of the grocery store, and ladies standing on street corners", says Ali E. Cevik.
However for Ali and his friends, life consisted of riding their bikes around town, mainly through the Pjentedamsgade area where his home was, and where today the city's Odeon cultural centre is located.
Ali E. Cevik came to Denmark with his little brother. Coming from a rural, agricultural community, the pair quickly located the best fruit trees in the neighborhood, searching for apples to make apple pie. It also didn't take them long to find and explore the neighbourhood's backroads and shortcuts, and although they initially had no idea who Hans Christian Andersen was, they found their way into the author's house, where they were shown a real gold mine for a couple of young growing boys. A cocoa machine.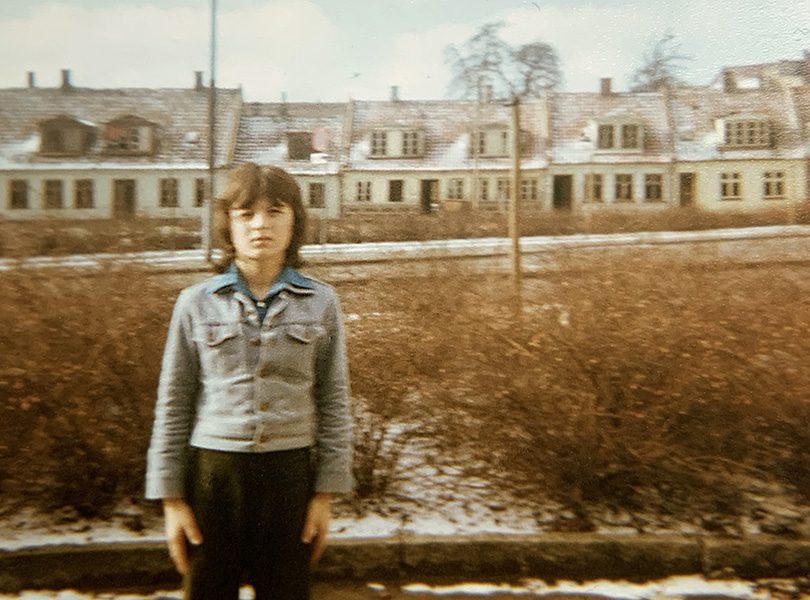 1976:  Ali E. Cevik photographed at Adamsgade, where the Odeon cultural centre is now located.
A radio was the height of technology
At this time, Denmark was taking major steps forward in the tech revolution.
In contrast, in the village of Gopson on the Anatolian plateau, where Ali E. Cevik and his family originally lived, there were not many modern conveniences. In fact, there were none.
"My grandfather had a radio on which he could hear some news, and that was the highest technology we had", says Ali E. Cevik.
The family's house was built of clay and consisted of one room in which the whole family lived.
The children of the community had the task of looking after the animals. This was primarily sheep and some goats, but his family also had a buffalo with young, which Ali was particularly attached to.
An unconventional entry into the labor market
Working as a shepherd was Ali's first experience of teamwork.
"Within the group of children there was a kind of hierarchy, and being one of the youngest I was among those at the bottom. The big ones were maybe only ten years old, but they were big compared to me. So it was us little ones who were sent out to find the animals if they had wandered off", says Ali E. Cevik.
These children did not have any toys, and before little Ali was brought to Denmark he had never seen a car up close. The children instead played with whatever they could find around them. They would fill their shoes with sand and pretend to drive around like cars and they would play with sticks.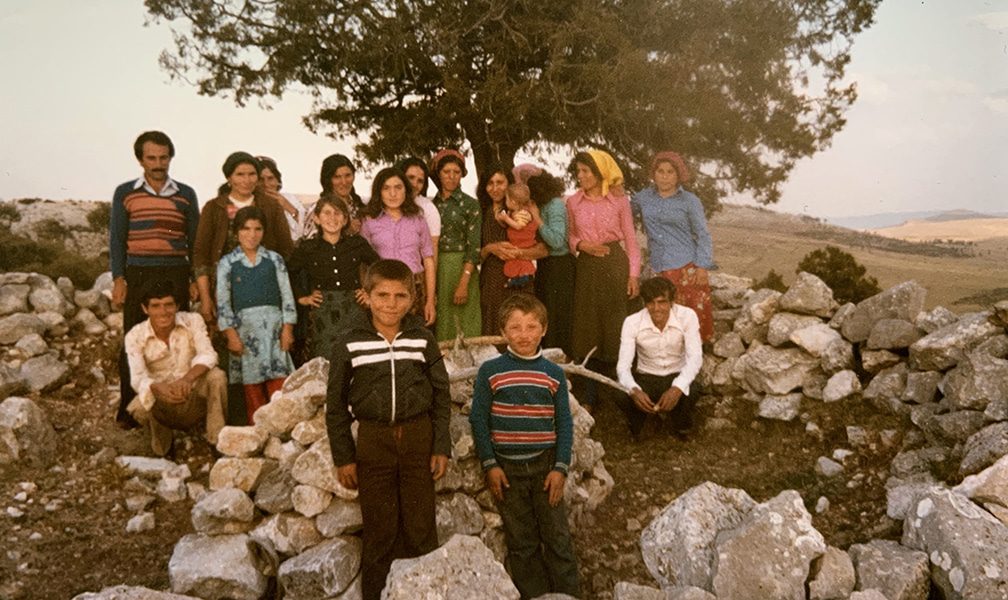 Here Ali E. Cevik is seen surrounded by family and people from the village in a sacred place, Demirci Baba, used as a meeting place for celebrations. Here the village would dine together, play music and dance folk dances. On the tree behind them, they would tie fabric to the branches and make a wish.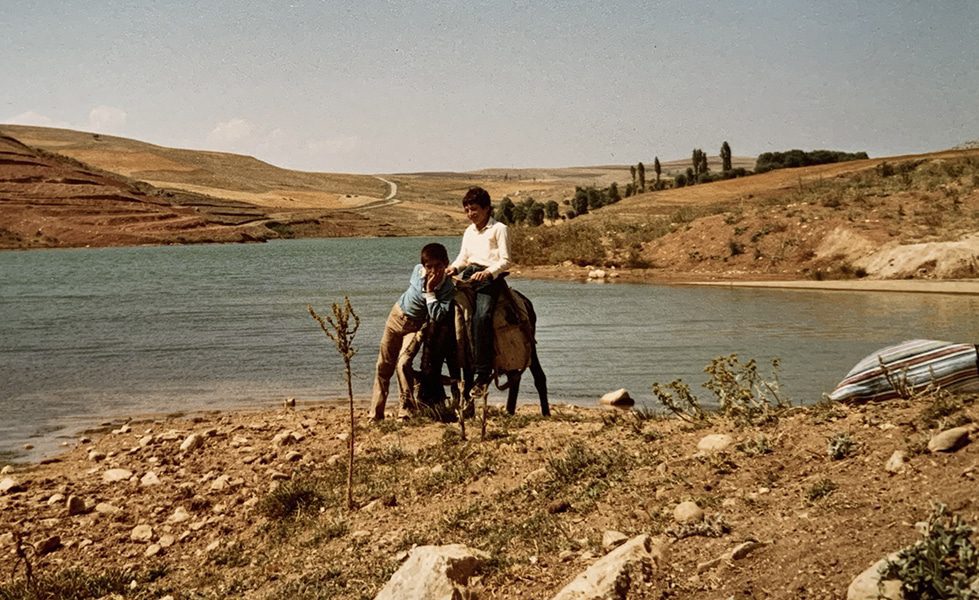 Ali E. Cevik and his brother in the small village in Turkey where the two brothers grew up.
The bus ran once a week 
There was no electricity and virtually no road network. A bus came to town once a week. The bus was a big event and the little boys would watch the buses coming to town.
It was therefore also a big event when Ali E. Cevik and his brother were picked up by their father to leave the village. Their father had traveled in advance to work as an unskilled worker at an iron foundry. Then their mother followed, and after that their father went back to fetch the brothers from their grandmother. In a car!
"I went from never having seen a car up close to driving all the way from the Anatolian plateau to Denmark", says Ali E. Cevik.
Thrown in the deep end
On his second day living in Denmark, Ali was already sent to school, without being able to speak a word of Danish. However, today he appreciates being thrown in the deep end.
"I came from a village school where we were taught the alphabet and the history of the Ottoman Empire, and not much else. In Denmark, however, I had to adjust quickly to a more professional style of education", says Ali E. Cevik.
From primary school to high school, and on to university. Ali E. Cevik graduated with the 'cand.phil.' title, specialised in Russian and Social Economy studies. And with that, one part of his journey to success was complete – the journey from shepherd on the Anatolian plateau to academic in Denmark. He could then begin the second stage – the journey that culminates in part with the award ceremony held today in the same place that he, as a child, cycled in search of apples.
"My dad broke the social legacy and moved out of our village. If my parents had not moved at that time, I might still be living in that village. I would probably have a television, because they now have those in the village, but it would be very far from the life I live today", Ali E. Cevik ends.