The right person to solve the tasks in your business is out there somewhere, but the big question is how to find them. 
In the past, the answer would have been an advertisement in a trade magazine and later advertising on a job portal. Both of these forms of advertising, however, demanded that the candidate themself actively looked for the job. Today, the alternative of getting the advert to find the candidate via social media, is taking over. 
According to social media expert Astrid Haug, 48% of people now find their next job via social media. 
"And it is also on social media that the more passive job seekers are sitting and watching. Those who have a good job, but may still be tempted," she writes on her website.
According to DR Media Research's annual report, 90% of Danes have a profile on one or more social media sites, of which Facebook is the largest. In contrast, other more niche social media sites are growing.
Many Danes using LinkedIn daily
Six percent of Danes are on LinkedIn on a daily basis, which is equivalent to 348,000 daily users, while the number for regular use naturally is significantly higher. Facebook still has ten times more daily users. 
Someone who recently got a job through an advert on LinkedIn, is the new head of FGU Greater Copenhagen, Tina Jensen. She first discovered the job when she saw the post on LinkedIn.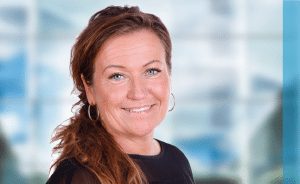 "LinkedIn is one of the first things I open in the morning when I sit and drink my morning coffee," says Tina Jensen.
Head of FGU Greater Copenhagen, Tina Jensen
As head of a local school, she was already aware that the position would soon show up, and she had been watching the job adverts for a long time. When she saw the post on LinkedIn, she chose to apply for the principal job.
"The job advert was put on LinkedIn via LinkedIn Premium, where companies can target their positions to the profiles they are looking for," explains HR-ON director, Ali Cevik.
"Everyone is on LinkedIn, and LinkedIn knows what people are doing. For example, if you are searching for a nurse in the Zealand Region, you can reach a large number with just a few clicks. In fact, there are as many as 25,885 nurses on LinkedIn," says Ali Cevik.