What is onboarding?
Onboarding is about controlling the process of new employees joining a company. It is important to ensure that new employees receive a proper introduction to the company's culture. Additionally, a good relationships should be created with the new colleagues. And it is also important to provide new employees with appropriate tasks which will enable them to flourish.
Therefore a well thought-out onboarding is vital for ensuring a successful start for new employees. A good start in the company can help prevent new employees leaving the job within the first year, which 25 percent of new employees do, according to the book "Onboarding –Getting New Hires off to a Flying Start." The book is written by Christian Harpelund, Consultant Director of the Onboarding Group, and Morten Højberg, CEO of Moment. You can read more about the book here .
Preboarding
To ensure a successful onboarding process, it may be a good idea to prepare your new employee already before the first business day. This is what we call the preboarding . With HR-ON's complete HR system, called HR-ON Staff, you can easily create a clear online preboarding. The employee can go through the preboarding process using their mobile phone, tablet or computer.
For example, you can create an app using a unique tool available in HR-ON Staff, AppBuilder. The preboarding app can include information such as: meeting time for the first day, lunch arrangements as well as a picture of the contact person and their contact information.
Creating the app does not require special IT skills and can be used time and time again for future employees. This saves you time.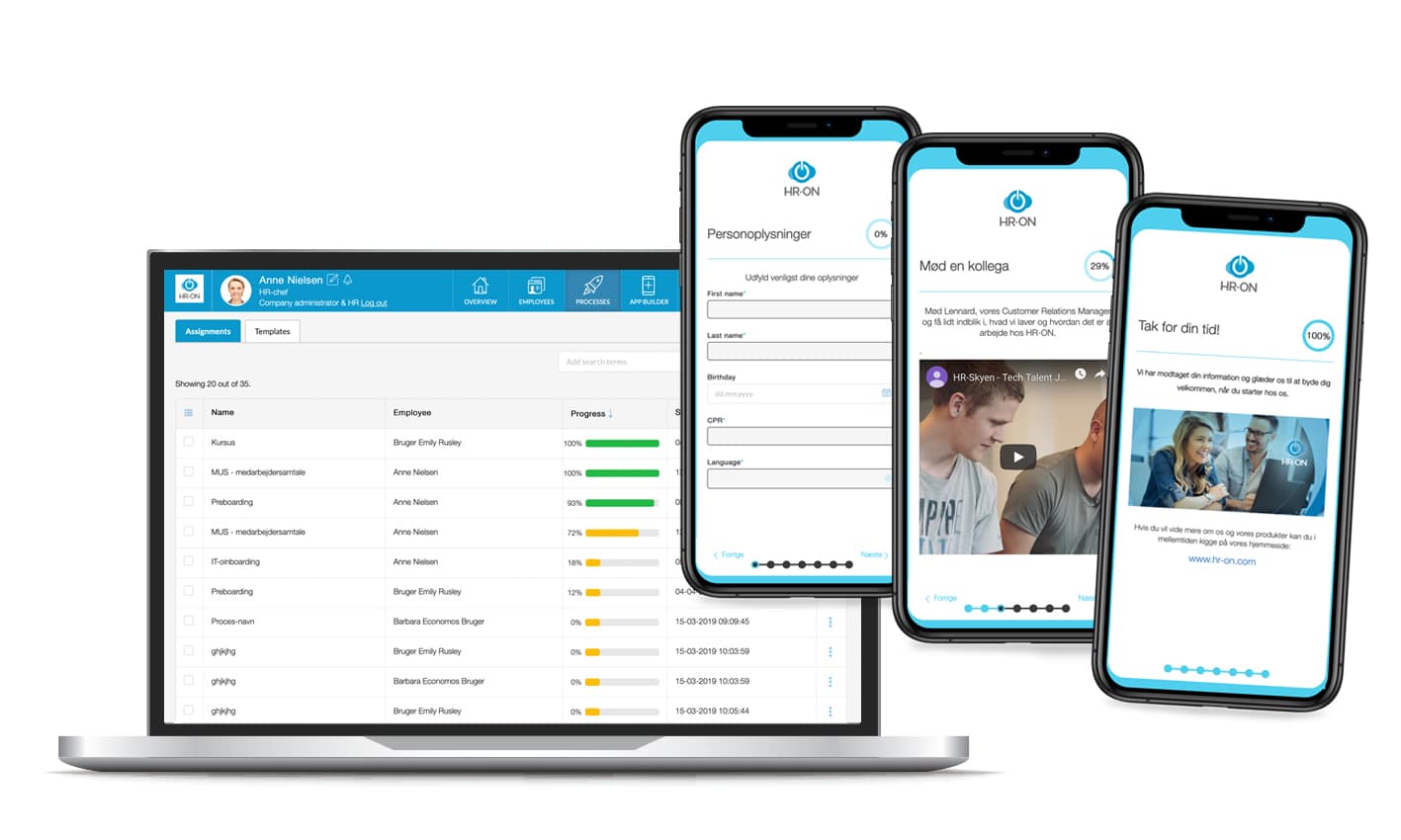 Easy distribution of onboarding tasks
There are several things you can do to make the onboarding of new employees successful. One thing is to make sure new employees feel that they are contributing to the company. This is an idea mentioned in the book "Onboarding – flying from the start" (the link takes you to a Youtube video).
If you assign tasks to new employee early in the onboarding process, this may give them the feeling of contributing to the business. With the HR-ON's staff management system, called HR-ON Staff , you can easily handle the entire onboarding process. And with a clear visual overview, you can keep track of how far the employee has come with the various tasks.
Read about our Onboarding Checklist and download it here
Get an overview of who does what
You can also register tasks for your other employees related to the onboarding of their new colleagues. Such tasks could include: showing the new employee where the coffee machine is, setting up their computer, giving them a key / access card and so on.
Once you have set up the onboarding process once in HR-ON Staff, it is easy to repeat the procedure the next time a new employee joins the business.
We hope you now have a better understanding of what onboarding is.
Enjoy.
What is onboarding?
Onboarding is about controlling the process of new employees joining a company.
What is preboarding?
Preboarding is done before a new employee's first day in the company.
How to ensure successful onboarding?
You can ensure successful onboarding by making sure the new employee feels that they are contributing to the business.