There is room for many different profiles at an IT company like HR-ON. In this article we will meet a couple of students who are currently doing internships at HR-ON
22-year-old Jonas Wyke is just one example. He is studying multimedia design at UCL, University College Lillebaelt in Denmark. Jonas' passion is animation, and an internship at an IT company was the perfect option for him, and a choice he does not regret:
"the creative freedom at HR-ON allows me to develop my skills a lot," he says.
Before applying to HR-ON, he had been thinking a lot about what he wanted out of his internship and vice versa – what HR-ON would get out of his skills. This mature approach has lead to Jonas having a successful daily working life at the Odense office. This is his recommendation to other students doing an internship:
"It is important to have a goal, or an idea of ​​your goals, in relation to what you want. When your interested in your work, you have more energy and you become more efficient".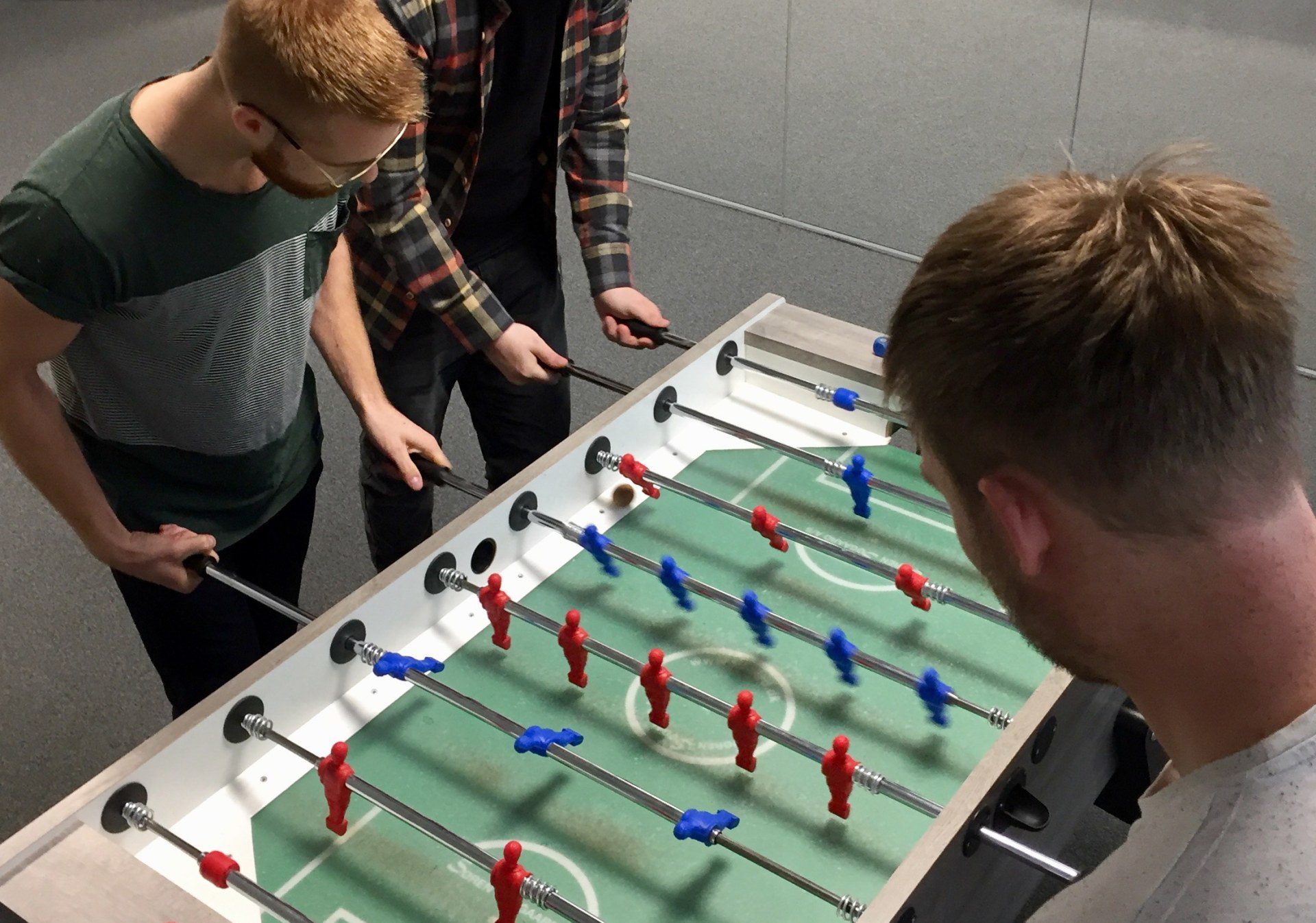 Jonas Wyke (left) and Hans Edvard Askholm (right) playing a game of table football.
A lot of experience
A colleague of Jonas, Hans Edvard Askholm, also an intern, is equally happy about his internship at HR-ON. Hans is a developer and before starting his internship he wondered if it is really possible to sit and code for an entire working day.
He soon found his answer:
"You can, and I'm super happy about it," says the 31-year-old developer, who is currently pursuing a master's degree in computer science at Aarhus University.
Hans' daily tasks at HR-ON fit perfectly with what he would like to do in the future.
"I learn something new every day and get a lot of experience," he says, adding: "It's programming I want to work with. I know that now thanks to this internship. "
Want to join the team?
HR-ON is looking for new interns starting in January 2020. Is that something that interests you?