HR-ON is on a roll!
In October, the software company received the Gazelle award for the second year in a row. This means there are now two gazelles sitting in HR-ON's head office.
The Gazelle award goes to companies which show positive growth. They must double their growth and revenue within a four year period. Being presented with this award supports the fact that HR-ON is in a rapid development phase. This is also reflected in the number of new employees and also the expansion of the head office at Odense Banegård Center. As of October 2019, they have approximately 35 employees.
CEO and founder, Ali Cevik, is extremely proud: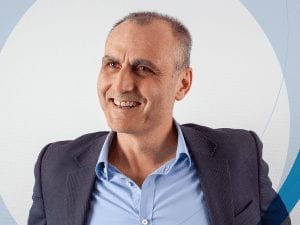 "The world of HR is strongly driven by professionalism, networking and personal relationships. We owe our explosive growth to the good references from our customers who recommend us within their network. It is affecting our developers, who are confirmed to be making a difference through daily contact with our customers," he says.
Focus on values
HR-ON will continue the good progress and will not take it's foot off the gas. The software industry requires innovations in order to survive. This is why the employees of this Danish company are in constant development, so that they can maintain the high growth and chase gazelle number three. While the company is in a strong position and growth is well underway, it is essential to keep an emphasis on the company's values and DNA. Ali Cevik adds:
"The challenge we face in achieving our goal of becoming a recognized global player in the field, is to maintain our values as a diverse, intimate and professional company. We believe these values are a prerequisite for responding to customer needs as well as maintaining close dialogue while expanding."
HR-ON will officially receive the Gazelle award on 20th November. This will take place at Børsen's Gazelle Award show in HR-ON's hometown, Odense.