All You Need to Know About Engagement Surveys in 2022 + Examples
There are plenty of interesting ways to engage your staff through digital tools. Maybe you have already crossed paths with engagement surveys or company surveys? Tools like these can give your HR department access to useful data, information, and opinions from your employees as well as about your employees. Your employees can provide you with valuable insights about, for instance, their well-being that you might not have known otherwise. But engagement surveys offer plenty of other possibilities, that you can learn more about in this blogpost.
What is an 'engagement survey'?
To put it simply: an engagement survey is an online questionnaire that you can share with your employees. In this way, you have a simple tool to identify, for instance, current employee welfare in your organization. For instance, the questionnaire might feature questions that you can use as a starting point in your employee welfare interviews.
Remember to Follow Up on Your Surveys
When sending questionnaires to your employees, it is important that you make time in your calendar to follow up on the answers that you receive. There may be indications that welfare is lagging in some teams or departments. If that is the case, following up with additional interviews are essential, so you can investigate the issues, act accordingly, and in time.
The issue might not be one that the HR department can or should resolve, but as the department has access to the results, HR has the responsibility of making sure that these results are passed on, so that the right colleague or department can take action.
Studies show that there are plenty of benefits when using engagement surveys to track the well-being of your employees. A study conducted by Salesforce shows that employees that feel like they are being heard are 4,6 times more likely to perform better at their jobs. Another study from Gallup indicates that workplaces that act on the results of a welfare questionnaire are twice as likely to have committed employees than if no action is taken at all.
Update Your Employees' Data Easily
At HR-ON we have developed a feature that we call Engagement Builder. You will find this feature on the HR-platform HR-ON Staff. Engagement Builder allows you to easily build your own questionnaires and see the responses directly through the platform. Engagement Builder automatically provides you with graphic representations of the responses, that you can easily use as part of a presentation.
But our Engagement Builder is actually a lot more than just a questionnaire tool. It also allows you to collect your employee's data, and automatically save them to your employee's personal data file on your HR-platform. In this way, you can easily maintain all the employee information that you need, and keep it up to date. Using the Engagement Builder to manage your employee data means that you no longer have to manually enter details of every single employee. This means your employees have more time to tackle more relevant tasks.
Use the Engagement Builder for Staff Development Interviews
Engagement Builder can be a valuable tool in your staff development interviews. Let HR-ON's Engagement Builder be the foundation for your interviews with its build-in features specifically designed for staff development interviews. This specific feature allows easy entry both for the manager and the employee, which means that both parties can access the data together as well as separately. For the employee, it means that they can complete the questionnaire at one's leisure, and afterwards the manager can read through the answers and take notes. Both parties have time to focus on their tasks, before conducting the interview.
Information from current and earlier interviews is saved to the employee's data identity card and is therefore easy to locate when you need to revisit the data. Setting up a default approach to interviews across all departments is easy. If you prefer a unique setting for each department, you can easily adapt the settings, so they fit the needs of a particular department. This is a one-time task – once you have completed the setup, you no longer have to worry about it since you can use the specific engagement again and again.
Include Video and Photos
In addition to the examples above, Engagement Builder can be used to send out messages to your employees. These could be statements that you would not usually publish through e-mail, Slack, or other internal communications apps.
Maybe you want to include an image or a video in an onboarding message to a new employee. In cases like this, Engagement Builder comes in handy, as you can easily set it up exactly the way you would like. The feature is also useful when sending out invitations to the company's summer get-together, Christmas party, or the anniversary of a dear colleague. The possibilities are limitless – all you have to do is to have an idea and let it come to life through Engagement Builder.
Make the Most of the Engagement Builder: Unique Insights on How Martinsen Rådgivning & Revision Welcomes Their Trainees
There are endless of ways to use the HR-ON Engagement Builder. One of them is to send out information to new employees before their first day, so they get off to a good start.
HR professionals everywhere know that good onboarding is key to a solid start for new employees. Additionally, a thorough and well-planned onboarding also increases your chances of retaining your employees, which you can read more about here.  
Recently, the term preboarding has made its rounds in HR departments. You can preboard an employee from the time they sign their contract and up until their first day at work. Preboarding can be just as valuable as onboarding, especially if the process is prolonged and takes more than a few months.
Get Off to a Comfortable Start With Preboarding
Martinsen Rådgivning & Revision is one of the many companies that uses preboarding in their day to day work. As an HR-ON client, they have adopted a special tool, which they use, when it comes to creating an informative and secure start to their new trainees, before their traineeship even starts. 
The tool in question is the Engagement Builder developed by HR-ON. The tool can be used numerous ways, including preboarding as they do at the company. Charlotte Mølgaard Hansen, from Martinsen Rådgivning & Revision, says:
"We employ trainees, and some of them sign their contract over six months before they actually start. Therefore, we have created different engagements that we send out regularly."
Collect Useful Information
By using the Engagement Builder, Martinsen Rådgivning & Revision can welcome their new trainees and be in touch, even before they start. In this way, the company can provide their trainees with useful information about their employment, their workplace, and details concerning the traineeship.
Additionally, Martinsen Rådgivning & Revision can create a sturdy relationship with the new trainees. Besides providing them with information, the company can ask the trainees to answer different questions in the Engagement Builder, as you can see below.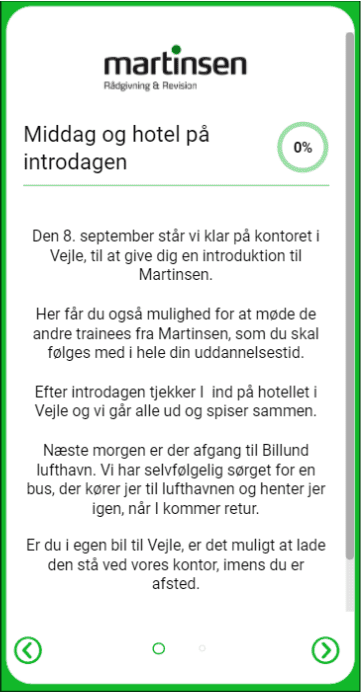 Dinner and hotel on introduction day
On September 8th, we are ready to greet you at our office in Vejle and give you a proper introduction to Martinsen Rådgivning & Revision.
You will have the opportunity to meet the other trainees. You and the other trainees will go through the education programme together.
After the introduction day, you will all check into the hotel in Vejle. Thereafter we will go out for a joint dinner.
The next morning, you will be transported to Billund Airport. We have booked a bus that will take you to the airport and pick you up once you return.
Should you come to Vejle in your own car, it is possible to leave it at our office, while you are away.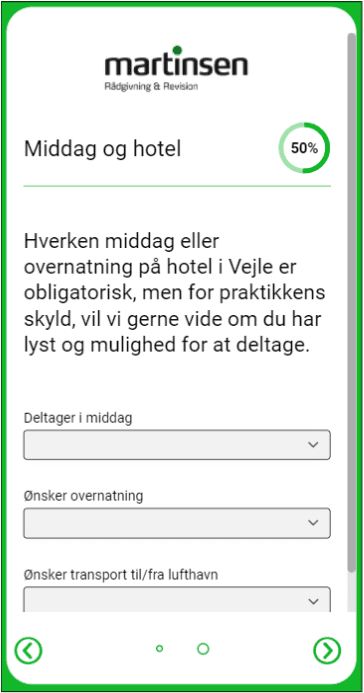 Dinner and hotel
Neither the dinner or the night at the hotel are mandatory, but due to convenience, we would like to know whether you plan on participating or not.
– Joining dinner
– Need accommodation for the night
– Need transportation to and from the airport
Doing it this way makes the task of collecting information from the new trainees more efficient, because all their information is registered on the employee's identity card in HR-ON Staff. This means that the HR employee no longer has to manually collect the data and put them into a system. All is done automatically once the employee accesses their assigned Engagement Builder and answers the questions.
Use It Again and Again
Besides keeping the trainees informed as well as collecting information easily, there is another advantage when using the Engagement Builder for Martinsen Rådgivning & Revision: they can reuse the blueprint for the specific Engagement Builder again and again.  
The blueprint is easy to adapt should any changes occurre from one procedure to the other. When employees are registered in the organization's account in HR-ON Staff, the procedure basically takes care of itself. That means hours and hours of work are saved.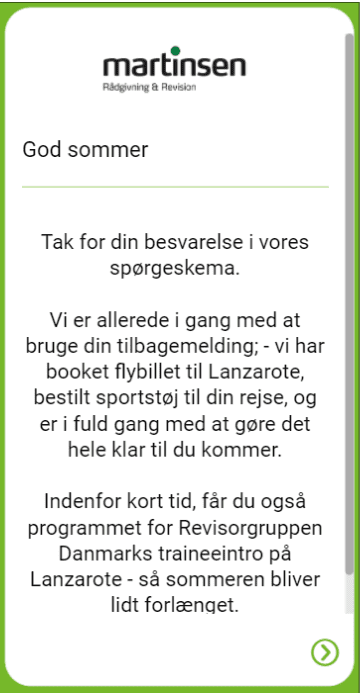 Enjoy your summer.
Thank you for your response.
We are already taking care of your entries. We have booked your ticket to Lanzarote, put down an order for gym clothes for your trip, and are busy preparing everything for your arrival.
You will receive the full program for the Revisorgruppen Danmarks traineeintro trip to Lanzarote shortly – hopefully this will extend the summer just a bit.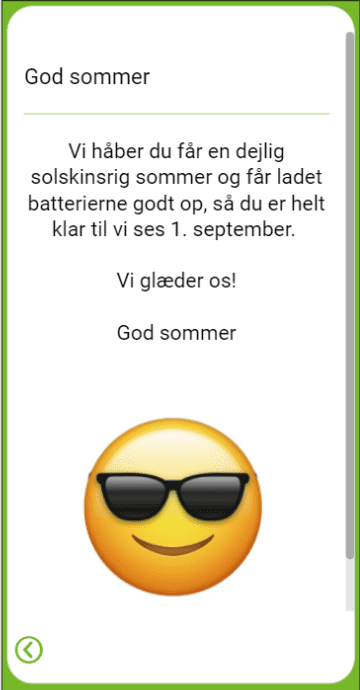 Enjoy your summer.
We hope your summer will be full of sunshine, and that you get some good rest, so you are ready for when you start on September 1st. We look forward to it!
Enjoy your summer.
Ready for HR-ON Staff?
HR-ON Staff gives you plenty of possibilities. Book a free demo today and let us introduce you to HR-ON Staff, our Engagement Builder and how our system works to benefit your HR tasks.