Understand the Differences Between a Payroll and an HR system. Here Is Everything You Need to Know
Do you keep mistaking payroll systems and HR systems for each other, and do you just need clarification on what differentiates the two? Read along here and learn about the differences and similarities between the systems. 
Using systems to support your assignments can be more time efficient and make it much easier to keep an organized overview of your co-worker's data and salary. The tasks don't just get more organized, but they also lower the risks of forgetting important ones.
Secondly, you can save all relevant data about your coworkers instead of searching through mountains upon mountains of different PDFs; why go through so many documents when an HR system enables you to save information and documents in one place?
Some employees may find distinguishing between an HR and a payroll systems challenging. Are there two terms referring to the same thing? No. Two systems, each serving a distinct purpose. Below, you can read a list of some of the key distinctions and similarities.
What Are the Differences Between a Payroll and HR System?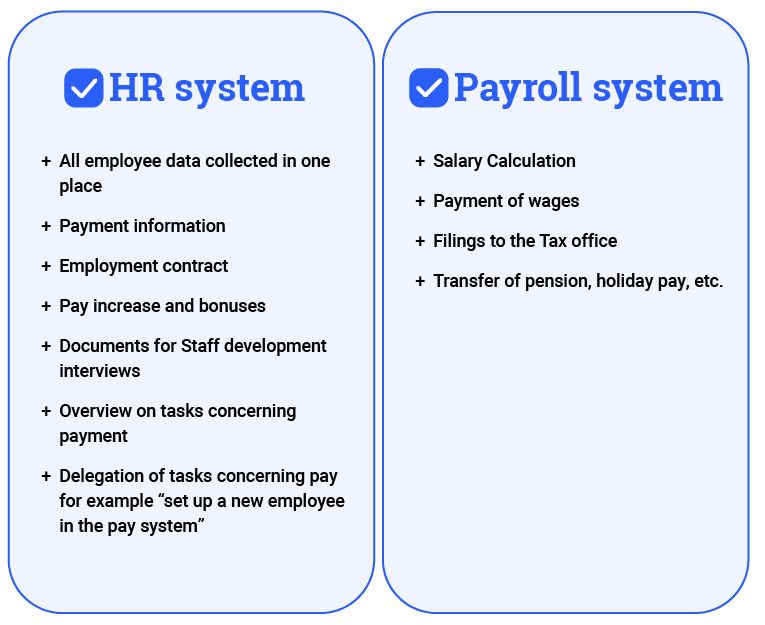 Are Your HR and Payroll Tasks a Hot Mess?
One of the main reasons why HR and payroll systems often get mixed up with each other is that the same team or department handles both systems. Therefore, the administration of HR and salary tasks end up merging together  – that is why some employees do not know the differences. In many companies, you will even find that one employee is in charge of both HR and economic-related assignments. 
In other companies, there will be a clear line between the two, but no matter how you go about it, they are still two different systems.
If you want a more streamlined workflow and solve tasks with no confusion, you must use systems that talk together. For instance, our HR-ON Staff can integrate to payroll systems, such as Zenegy, making it easy for you to have everything collected in one place while still having clear lines of what each system does. You will end up saving time with the integration since you will not need to edit the same information in two places.
Melt Together Two Systems With HR-ONs Open API
In addition, HR-ON has a so-called "open API." Open API means it is possible to integrate whatever software system you want to HR-ON Staff or Recruit. If you want to integrate systems, it only requires an IT employee who can help you with the process.  
If you are not a customer but are hungry to know more about the HR platform, HR-ON Staff, then book a free demo and try it out for yourself.