Ready to Recruit? Let the Candidates Send Video Job Applications
Are you looking for a new employee? Why not allow your job candidates to send in video job applications? Using video for the early stages of recruitment, you're able to get a better impression of each candidate than just looking at their written application.
In a world where almost everybody has access to a phone with a camera, filming a holiday video, tutorial, or Tik Tok video has never been easier: grab your phone, press' record,' and there you go. But the opportunities to record can also be used for recruitment, especially when you have to select which job candidates to invite for a job interview.   
A video differs from a written document and lets you asses and evaluate candidates on other parameters, such as the candidate's ability to present and formulate oneself verbally – something you can't see on paper. As an HR-ON customer with the recruitment platform HR-ON Recruit, enabling video job applications is a quick and easy function to turn on.  
Make sure to emphasize to the candidates that they don't need to have any experience in video editing – no ring light, video equipment, or video programs are required. A smartphone will do; the candidates can choose to record their applications on their phones and upload them or record the video directly on the browser.
Need help with how you enable the video application function in HR-ON Recruit? Contact our support here.
The Benefits of Video Job Applications
Besides having the opportunity to assess the candidate's verbal competencies, using videos for recruitment also has other benefits. You can use video as a supplement to the written job application and CV, or the video function can replace the written documents. Possible job candidates may decide not to apply for your job if the process is too long. A video is quicker and worth giving a try. 
Combining video job applications with the usual procedure of a written job application and CV gives you the best of two worlds. As a recruiter, you have many more parameters to asses: you see the candidate's written and oral skills. Naturally, a short video and one or two documents can't give you the complete picture of a candidate. Remember that the candidate is perhaps nervous and excited during a recording and interview. However, you get a glimpse that can be very helpful later in the recruitment process. 
If you use HR-ON Recruit, the videos will automatically be connected to each candidate's profile. From there, you can access their video and documents – and every hiring committee member has access to the candidates' profiles.   
It sounds great, both for the recruiter and the candidates, but is it relevant to ask for a video job application every time you need to hire someone? Will it work for all industries and jobs? Let's dive in and find out.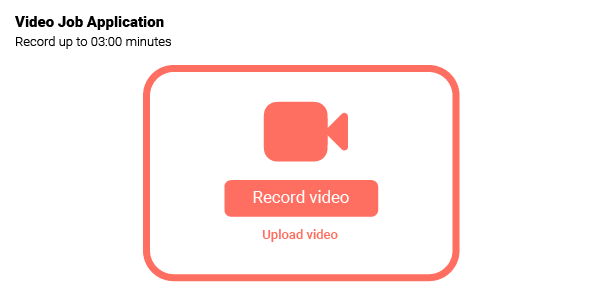 When Does It Make Sense to Ask for a Video Job Application?
Regardless of which job position you want to fill in, videos are a great supplement. Letting the candidates present themselves in this way will also show you the candidate's energy and some of their competencies in action. 
In jobs where the employee must be outgoing and in daily contact with customers, applying with a video is an excellent way for you as a recruiter to determine which candidates fit better to the job in question. 
When looking for an employee who would handle tasks such as presentations, webinars, or seminars for the company, as a recruiter, you would perhaps like to see the candidate's skill in action. If the job also contains video editing tasks, you can request the candidates to make a more creative video.
Not yet an HR-ON customer? Book a free demo today and experience how the video job application functions in HR-ON Recruit.