As always, HR-ON is working hard to make core HR tasks easier for you and your business. We have created an Onboarding Checklist to help you not only attract, but also retain top talent.
Read more about onboarding and download a copy of the Onboarding Checklist.
Why is it important?
Putting time and effort into the onboarding of new employees pays off. It is proven that having a well-thought-out onboarding process can significantly improve employee retention. Research conducted by Glassdoor found that:
"Organizations with a strong onboarding process improve new hire retention by 82% and productivity by over 70%."
After you've gone through the effort of finding and interviewing your new talent, be sure to give them a good welcome. Make a plan for their first day, week and month, helping them to get set up in the office, and giving them manageable and achievable tasks.
In this Onboarding Checklist, we have put together the most important aspects of the onboarding process.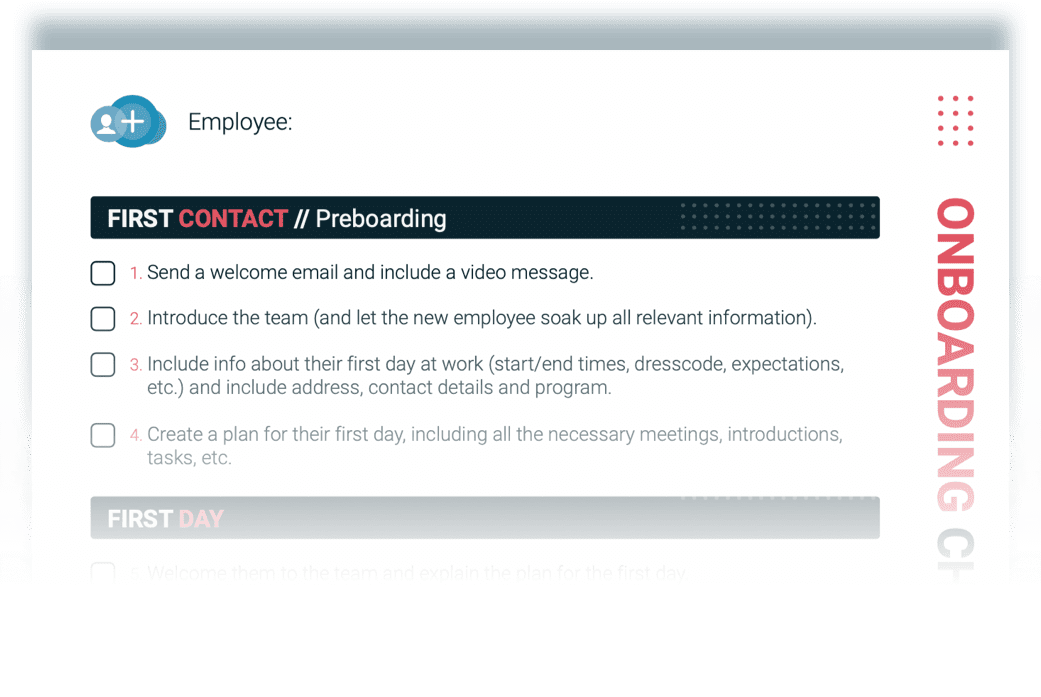 Employee Onboarding Checklist
First Contact
The first stage of onboarding can be referred to as preboarding. Getting in touch with new employees before they officially start their contract proves to be very beneficial for both sides. It makes new employees feel valued right from the start and it's also a good opportunity for you to give them some practical information. For example, you can send them the program for their first day; what time they should arrive, where exactly the office is, what they should wear, etc. You can also ask them to complete some important personal details (e.g. food allergies) to ensure you have the necessary information before their first day in the office.
We suggest sending new employees a welcome message before they start, including a video introducing them to the company and people. Using the AppBuilder in HR-ON Staff, it is quick and easy to create personalised preboarding apps. The app can be accessed by new employees on their smartphone, tablet or computer.
Click here for more information on HR-ON's AppBuilder.
First Day, Week, Month
Before the new employee sets foot in the office, it is important that you as the employer create a plan for their first day. You should do the same for their first week and first month. Schedule introductions and meetings with members of their new team, and also put some thought into the first few tasks you will give them.
When the first day arrives, be sure to give new employees a proper welcome. Show them their work space and introduce them to their colleagues. You can consider assigning them a 'buddy' to help and guide them during the first few months.
It is important to get their feedback throughout the onboarding process. And to use this feedback to adjust the process accordingly. For example, towards the end of their first day, you can prepare a questionnaire asking 'How was your first day?'. We suggest keeping it short and sweet! Using the feedback from the new employee on their first day, you may decide to modify the plan for the rest of their first week and month. Again, this feedback questionnaire is something you can easily create using HR-ON's AppBuilder.

Attract and retain top talent
Finding and attracting top talent is one thing, retaining them is another. Use this Onboarding Checklist to ensure that your new employees feel welcomed and inspired when joining your business. And therefore create a strong and long-term relationship with your employees.