Meet the talented and passionate Kasper Kajgaard who kick started his career with us at HR-ON in june 2017. In this interview he shares his thoughts on HR-ON's culture and a little more about his interests.
What is your name?
Kasper Urban Kajgaard
What is your current position?
Consultant and Account manager
When did you join the company?
1.st of june 2017
What do you enjoy most about your job?
Being surrounded with humorous, bright and nice people, and feeling like you matter to them.
Of course It's nice to be part of a company that values its employees and where you feel like what you do matters both for the company and the clients, but in my opinion the most enjoyable aspect about working at HR-ON is the companionship between the colleagues.
The open and inclusive work culture is also a big plus because at HR-ON you get to develop your own job function and explore your skills and interests.  
How would you describe your job to a child?
I help people understand how they can or sometimes should build with their Lego bricks.
If given a chance, who would you like to be for a day?
With no intention to sound complacent, I dare say I am pleased with my life and with the person that I am, but if I had to choose whom to be for a day, I would choose to be my dad.
I am about to become a father myself and I would like the chance to see how it is to be a dad for two grown up sons. Furthermore, recently he has been diagnosed with Alzheimer's disease and I would like to get a first point of view of his struggles, how he is experiencing the world, and exactly how much this affects him.
What are the top 5 most-used apps on your phone?
Chrome, Messenger, YouTube, Instagram, Camera.
What do you do for fun in your free time?
I like playing and exploring games with other people, both digital and board games. I enjoy reading comics too. Else, anything creative is right down my alley.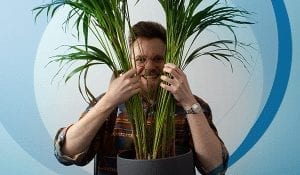 What is your favorite food?
Spicy and preferably vegetarian like pakistani food. I have to admit though that I have a HUGE heart for burgers 😀
What does success mean to you?
Succeeding in unity with others. For me, I think the most important thing about success is that it can be shared.
What is on your bucket list?
Bring children into the world and see them enjoy it while caring for it.
This might sound a bit cheesy but for a long time my dream has been to start a family and have children. I want to pass along a lot of lessons I learned through the years and my joy for life.
At the same time I want to bring children in this world that are raised well so they can contribute to making the world a better place.  
If you could learn to do anything, what would that be?
I would like to learn cabinetmaking and other wood workery.
If you could be any fictional character, who would you be?
Superman – I enjoy helping people.